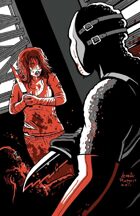 The Final Girl
Publisher Description
DON'T OPEN THAT DOOR
Something out there is hunting us. The captain of the football team was dragged into a manhole. The class president was found dead in her shower. And everyone remembers what happened to the school janitor… and what was left of him on the first day of school. Now we're the only ones left. Will any of us make it out of this alive?
The Final Girl, First Edition - Rules SummaryCollapse
There is currently no summary for this edition of The Final Girl. Would you like to
write one
?
Recommendation On