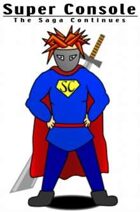 Console RPG
Publisher Description
Super Console!
Faster than a speeding airship! More powerful than the final boss! Able to cross from the eastern part of the map to the western part in a single bound! It's Super Console!
Console RPG, Super Console (2nd Edition) - Rules SummaryCollapse
There is currently no summary for this edition of Console RPG. Would you like to
write one
?
Recommendation On