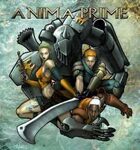 Anima Prime
Publisher Description
Anima Prime is a fast-paced, spontaneous roleplaying game inspired by the Final Fantasy series of video games as well as Avatar: The Last Airbender and other animated shows and movies.
The game combines narrative freedom in character scenes and combat maneuvers with elemental powers, Soulbound Weapons, and the summoning of Eidolons to allow you to create your own stories and action scenes rivaling those usually seen in video game cut scenes and anime battles. A flexible goal system lets you infuse any fight with meaningful story decision points and unlimited tactical options.
Anima Prime, First Edition - Rules SummaryCollapse
There is currently no summary for this edition of Anima Prime. Would you like to
write one
?
Recommendation On