Publisher Description
Battle with your brothers through the streets of New York City to defend your town from the sinister Baxter Stockman and his technological terrors! Teenage Mutant Ninja Turtles Adventures: Change Is Constant is a scenario-driven miniatures role-playing game created in IDW's Adventures Universal Game System. Play as one of the four ninja turtles or Casey Jones, or take on the role of Baxter and command his robot fleet, including the menacing Mega-Mouser. This all-new entry into the Adventures Universal Game System features a brand-new campaign and two different modes of play: 1 vs. Many and fully Co-operative! Each Adventures game is both stand-alone and compatible with other games in the system! Mix and match characters from each game to create custom scenarios!
Not an RPG ... But Close [ edit ]
Technically Teenage Mutant Ninja Turtles and Other Strangeness (from Palladium) is the only official TMNT RPG. However, publisher IDW came very close to making a second one, with a series of three interconnected "adventure games".
Officially all three (City Fall, Change is Constant, and Shadows of the Past) are board games, not role-playing games. There's no leveling, no character customization, and the game can even be played in full "co-op" (ie. GM-less) mode.
However, the game is a "dungeon crawler" board game, and it very much has RPG-like (if simple) fight mechanics, so it may appeal to some.
Should You Buy It? [ edit ]
If you're just looking to play the actual turtles themselves, and don't care about role-playing them (you just want to fight as them) ... or if you're looking for an "RPG" that you can play without a GM, this board game may appeal to you. For most RPG fans however, the fact that these are board games first, and "RPG-like adventure games" second, means that you'll want to stick another option.
However, there's one more reason to mention these games, and that's their miniatures. As you can see from the image below, both these board games came with some great miniatures, of both the turtles themselves, and their allies and enemies.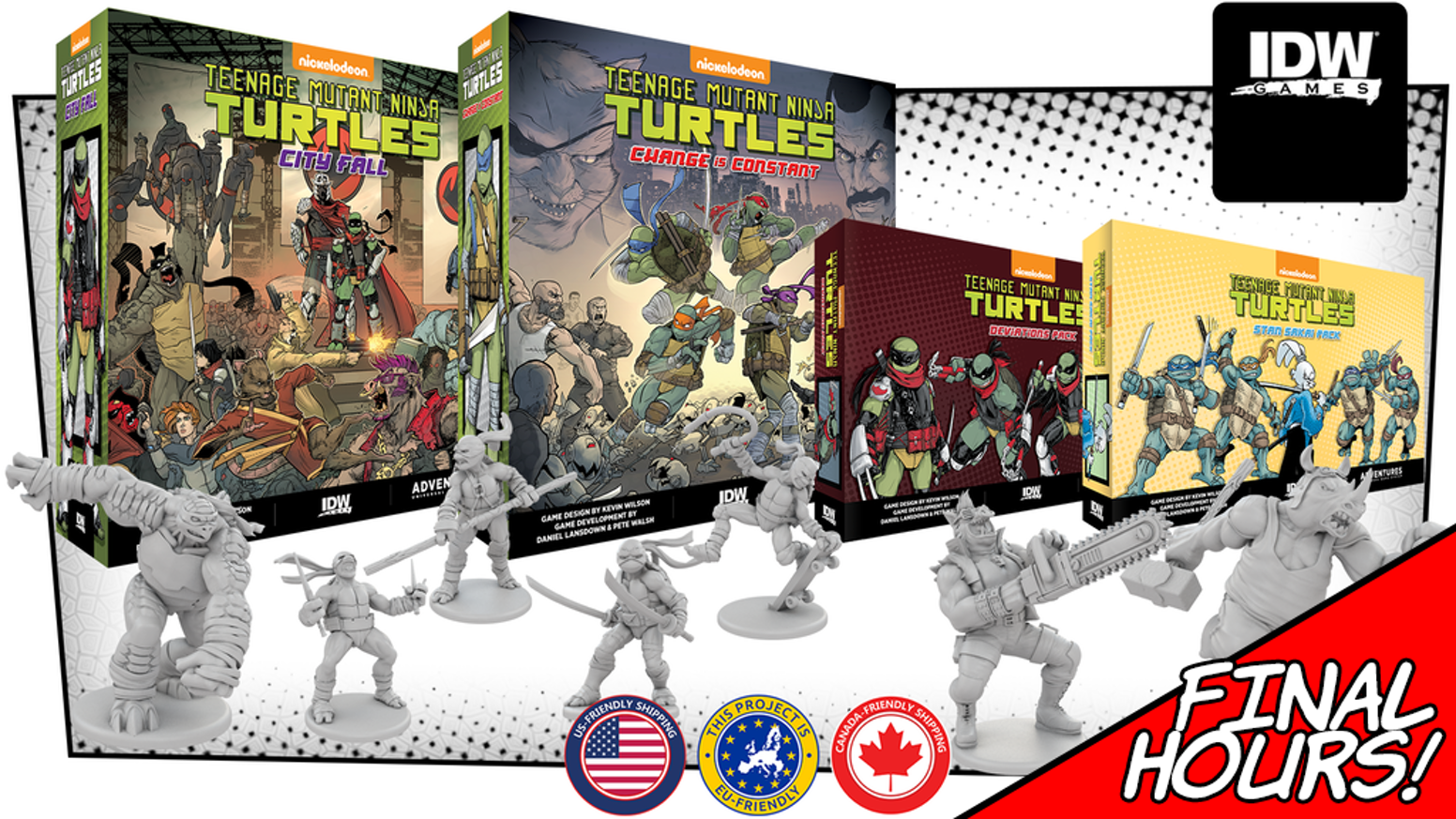 Unfortunately both games sell for around $100, and they split the miniatures for the turtles between the two most recent ones (City Fall and Change is Constant), which means getting a complete set will set you back around $200. The first game (Shadows of the Past) has all four turtles, but the miniatures aren't as nice.
Not an RPG, But a Fun RPG-Like Board Game With Great Miniatures [ edit ]
Ultimately these adventure/board games won't appeal to most players looking for an actual role-playing game. However, if you're looking for a simpler game, that still includes many RPG elements like "dungeon crawling" and tactical fights with miniatures, then these games might be a great addition to your collection.
And while we certainly wouldn't recommend spending $200 for a good set of turtle (and ally/enemy) miniatures, if you buy these games to play them you can of course still use the great miniatures that come with them in one of the other RPGs mentioned here.